Description
Description
U Remïnd Me Cognitive Support Supplement
U Remïnd Me Cognitive Support is an all-natural, Health Canada approved, scientifically formulated supplement designed to support memory, cognition, stress and immunity. Studies show that one year after menstruation stops, memory, new motor skills, attention and working memory can also be lower than pre-menopausal years plus 23% of post-menopausal women can experience depression, anxiety and mood swings. Many researchers believe this can be linked to the major hormonal changes that happen during menopause. Additionally, those still in menstruation years can also experience a drop in hormones right before a period which can also lead to brain fog.
How does U Remïnd Me work?
U Remïnd Me provides improved mental clarity and energy so that you can focus on tasks longer and enjoy your day. With ingredients that boost cognitive function for a more awake state of mind, adrenal support to reduce the symptoms of stress, enhance your overall mood, heart support and immune support. By taking U Remïnd Me, your body will be able to bounce back from physical and mental stress quicker and attack the day with a much clearer mindset.
What is U Remïnd Me made of?
With ingredients like Chinese Hawthorn, a centuries old Traditional Chinese Medicine, this supplement targets stress in your body and works as a natural mood booster while helping to prevent hormone-induced depression. U Remïnd Me is formulated with Schisandra, Astragalus, and Bacopa, which deliver antioxidants to your body while increasing stamina. Each of these ingredients work harmoniously to improve the balance in your body and contribute to your overall health and well being.
Is U Remïnd Me right for me?
If you have trouble concentrating for long periods of time, or maybe just don't feel as alert as you should, then U Remïnd Me is the solution you need. This support supplement works hard to ensure balance is brought back to your body's mood, energy, and stress levels.
Features
U Remïnd Me
Supports Memory

Increases Energy & Cognitive Function

Helps Reduce Symptoms of Stress

Enhances Mood

Supports Adrenal Rejuvenation
What Makes it Unique?
U Remïnd Me contains a very unique adaptogen called KSM66 Ashwagandha. Unlike other cognitive products on the market today U Remind Me also focuses on adrenal and stress support. KSM66 is a branded, full-spectrum extract, with the highest concentration of all major root only extracts available on the market today. It is produced using a unique proprietary extraction process, based on "Green Chemistry" principles, without using alcohol or any other chemical solvent. Then a special strain of hawthorn called Chinese hawthorn, which also goes by the Latin name, Crataegus pinnatifida. It's been used for centuries in Traditional Chinese Medicine (TCM). But more recently, a new 2018 study published in the journal, Molecular Nutrition & Food Research, examined the antidepressant and stress-reducing effects of Chinese hawthorn. Researchers discovered that this unique berry can help fight stress and prevent stress hormone-induced depression, which also make it a great natural mood booster!
How Does it Work?
U Remïnd Me takes a holistic approach to bringing your body back into balance. Each ingredient has been selected to work synergistically to improve resistance to stress, enhance mood and increase energy and mental clarity.
Ingredients
U Remïnd Me Cognitive Support Supplement – Ingredients
Bacopa (Bacopa monnieri): (Bacopa monniera) is an herb used in Ayurveda, the traditional medicine of India. Bacopa may have antioxidant properties. It contains saponin compounds such as bacosides and bacopasides. These compounds may enhance cognition, learning, and memory. They may also inhibit in inflammation in the brain. Studies show that bacopa is a potent antioxidant in the brain and promotes free radical scavenger mechanisms and protects cells in the brain from damage.
KSM-66 Ashwagandha: KSM-66 ashwagandha is backed by several randomized, double blind, placebo-controlled human clinical trials. Clinical studies show that KSM-66 functions as an adaptogen assisting the body in reducing stress and anxiety.
Chinese Hawthorn: Chinese Hawthorn helps with stress management, prevents stress hormone-induced depression and boosts mood.
Astragalus (Astragalus membranaceus): Astragalus is an adaptogen and helps the body tolerate stress. Astragalus can help provide recovery from the neurochemical impairments in the brain that can be caused by stress.
Schisandra (Schisandra chinensis): Schisandra has been used in traditional medicine for increasing stamina. Schisandra acts as an adaptogen and can support the adrenals by reducing the negative effects of stress. Schisandra can also increase physical strength and endurance, essentially providing real boost in energy and stamina.
MPantothenic Acid (Vitamin B5): Pantothenic acid is an essential B vitamin that helps in the breakdown of fats and carbohydrates for energy, and critical to the manufacture of red blood cells, as well as sex and stress-related hormones.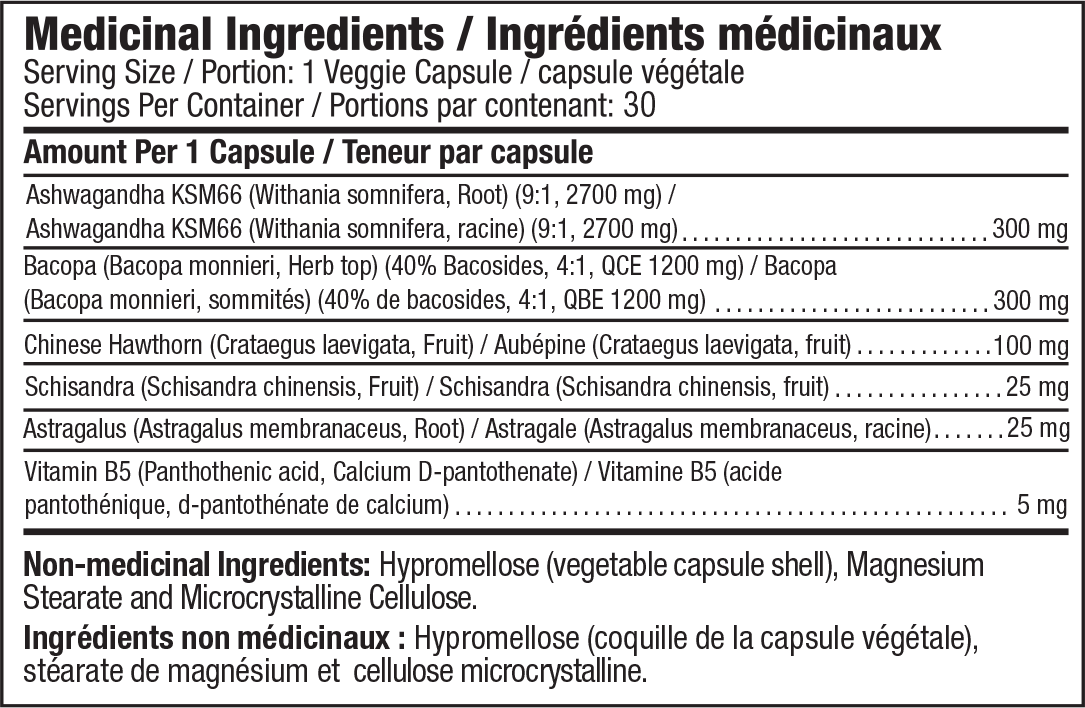 FAQs
What is Bacopa?
Bacopa monnieri, commonly known as water hyssop, is a herb often used in Ayurveda medicine. Research shows that it may alleviate anxiety, stress and boost brain function among other benefits. Individuals who are stressed and struggling with cognition/memory during hormonal imbalance or menopause and perimenopause can benefit from Bacopa. Bacopa appears to enhance cognition and calm the mind rather than slowing down cognition and calming the mind.
How many do I take each day?
U Remïnd Me can be taken once a day after lunch for the best benefits.
Are the capsules or tablets?
U Remïnd Me is 100% Vege capsules, for easier absorption.
Does U Remind Me contain Caffeine?
No, U Remïnd Me is a caffeine free herbal blend with no stimulants.
Disclaimer
KEEP OUT OF REACH OF CHILDREN. Do not use if pregnant or breastfeeding. Not intended for use by persons under the age of 18. Consult a health care practitioner if symptoms persist or worsen; or if you are taking hormone containing medications such as progesterone preparations, oral contraceptives or hormone replacement therapy, or prescription medications as resveratrol may alter the effectiveness of these medications. Do not use if you have a kidney disorder or kidney disease. If you are taking antibiotics and/or nitroglycerin, do not use this product. Stop use if hypersensitivity/allergy occurs. Store under normal storage conditions (dry, well-ventilated premises at 15-25°C).
Stop use and seek medical attention immediately if you experience dizziness, confusion, muscle weakness or pain, abnormal heart beat and/or difficulty breathing.